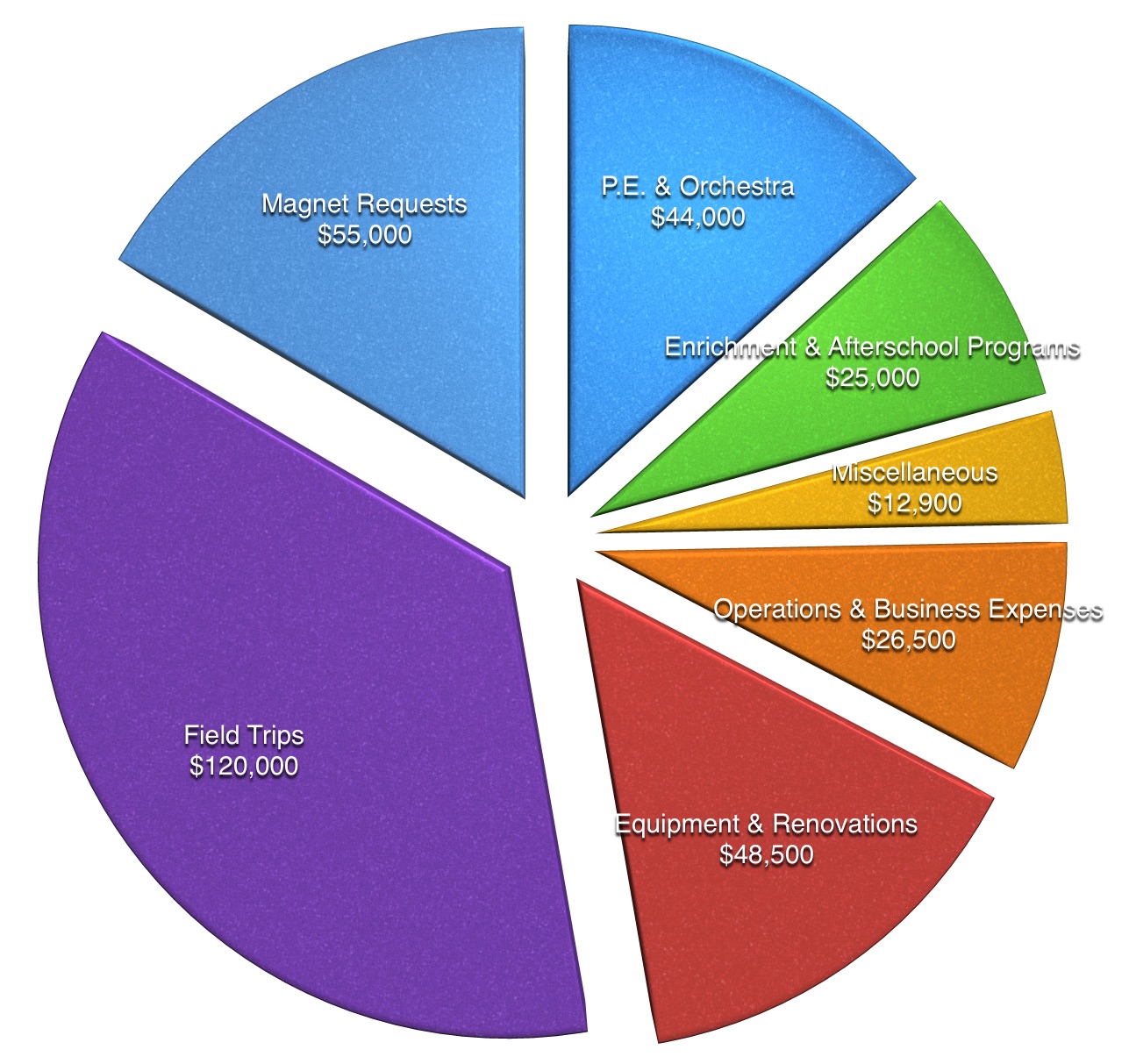 Magnet Requests – Apple Computers & Batteries; iPad Covers, iPad Cases & Screen Protectors; Digital Cameras, Memory Cards & equipment; Accelerated Reader; Supplemental Science Books & Math Workbooks; Materials for classroom projects/Science, Math, History, English, Electives; English Drilling Books; Classroom Fiction paperbacks for each student; Environmental Studies Magnet supplies; Microscopes, Lab equipment, Materials for Science projects; Calculators; Basic Classroom supplies; Teacher Professional Development Workshops; Art Materials and equipment / Slab Roller for Ceramics / Clay and Paint; Color Printer; Toner for Classroom Printers & Library printer; etc.
PE & Orchestra – this amount includes $15,000 budgeted for much needed music instruments for King's Orchestra classes and & $29,000 to fund P.E. requests
Enrichment & Afterschool Programs – Garden program, Disc program, other LACER, Director's Cut, Library books, Scholastic Reading Clubmagazine subscriptions, spelling bee, Jupiter ed, etc.
Miscellaneous – this amount is budgeted for expenses related to Staff Appreciation, Community Outreach & Hospitality, Assemblies, Career Day, Student Learning Fairs, Magnet functions, Talent Shows, Gift Cards, Prizes, Raffles, Culmination.
Operations & Business Expenses – website, communication and social media, printing, postage, supplies, contract services and expenses related to fundraising
Equipment & Renovations – this amount will go towards school beautification, equipment, as well as help fund the renovation of room 136 to transform it into a flexible classroom/theater/tv studio
Please note that these expenditures are estimated and based on a 3 year average of expenses and Teacher Requests for funding for the upcoming school year. Actual expenses vary annually and are based on amounts of funds raised and the ability to meet teacher requests.